CasJobs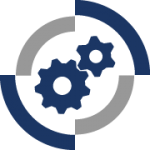 CasJobs is the brains of the SciServer infrastructure and provides a sophisticated query management and scheduling subsystem that supports the many ways in which researchers access Sloan Digital Sky Survey data. CasJobs supports a web services API that is generalizable and accessible from any application that accesses the SDSS data, as well as being generalizable to serve other databases. Indeed, CasJobs has been adapted and deployed already in other non-astronomy projects. This flexibility and extensibility is a core feature for the growth of SciServer over the next 4-5 years.
Importantly, CasJobs provides a storage capability called "MyDB" – every user that signs up gets a few Gigabytes of database storage space to support their astronomy queries and results.  The MyDB capability has been a huge success in the astronomy community, and will be a central capability that SciServer will extend to provide customized storage for all supported science domains.
What's New?
With SciServer, CasJobs received a major upgrade. The new version uses modern web technologies to achieve even greater flexibility.
Although there are major changes under the hood, the site continues to function as it always has. You can still run long and complex queries, save the results to your MyDB, and plot and analyze results online in various ways. All tools and data will continue to be offered free of charge to everyone.
The latest version of CasJobs works seamlessly with other SciServer components to enhance your research and teaching. CasJobs integrates with such as enhanced accounts with the Login Portal, better integration with SkyServer, SciDrive, a file management system, and Compute, an online environment to quickly and securely run analysis scripts online.