Releases & Updates
SciServer Altair e
Code Release Number: v1.9.0
Release Date: January 11, 2017
New in this Update
Altair e offers the first wide public release of the SkyQuery website, which allows you to quickly cross-match astronomical observations among many catalogs and your own observations.
Change Log
v1.9.0
SkyQuery – New! A guide to using SkyQuery is available in the Documentation section of the SkyQuery web site.
SciServer Altair d
Code Release Number: v1.8.2
Release Date: September 6, 2016
New in this Update
This update to SciServer Altair includes various bugfixes and improvements to SkyServer and CasJobs, as well as adding a new Python image that includes development tools into SciServer Compute.
Change Log
v1.8.2
SkyServer Finding Chart Tool – Fixed – User query section now fully operational
SkyServer Imaging Query Tool – Fixed – Fixed bug with "ObjType" option
SkyServer Help – Updated – Updates to the How to search SQL tutorial
SkyServer Help – Updated – Updates to the About the Database page
CasJobs Schema Browser – Fixed – Fixed bug related to viewing incorrect contexts
Compute – New Feature – Added new Python image that includes development tools
SciServer Altair c
Code Release Number: v1.8.1
Release Date: July 29, 2016
New in this Update
This update to SciServer Altair includes updates to SkyServer and CasJobs to support the Sloan Digital Sky Survey's Data Release 13 (DR13). It also includes updates to the SkyServer, CasJobs, the Explore Tool, and Compute.
Change Log
v1.8.1
Explore Tool – Updated – Explore tool now shows MaNGA observations of the object, plus relevant data and figures for download.
Plate Browser – Update – New info related to the plate is now shown in Plate Browser tool.
Compute – Dashboard – Now displays SciServer System version information.
Compute – Health Page – Displays current settings and node status.
Compute – Security – Connection Token is not shown by default; its visibility can be toggled by clicking the "eye" icon on the Dashboard.
Compute – Infrastructure – Containers will stop after a period of inactivity, but restart automatically when user re-opens them from the Dashboard.
SkyServer – Sample Queries – Sample SQL Queries Page Updated; MaNGA, APOGEE, EBOSS queries updated or added.
CasJobs and SkyServer SqlSearch – new MaNGA tables are now available for direct user access through SQL queries.
SkyServer – About the Database – Added new tables, updated tools descriptions, updated database diagram.
SkyServer – Table Descriptions – Page updated.
Autocomplete – Now enabled in search menu of Explore tool.
CrossID – Results now includes links to returned objects' Explore Page.
Compute Delete Container – now confirms with user before deleting container.
SciServer Altair b
Code Release Number: v1.8.0
Release Date: June 13, 2016
New in this Update
This update to SciServer Altair includes SciServer Compute. Compute brings the analysis to the data with Jupyter Notebooks in Docker containers.
Change Log
v1.8.0
SkyServer Documentation Updated – Improved API description page and fixed broken links.
Increase backwards compatibility with newAPI – Forward x_sql.aspx to new URI.
Fixed varchar column issue -Fixed problem with varchar column in schema browser and table data preview.
Login Issue – Fixed logging-in/out integration with other sciserver apps.
SciServer Altair a
Code Release Number: v1.7.6 & v1.7.5
Release Date: May 20, 2016
New in this Update
This update to SciServer Altair includes MyScratch, and SciDrive-CasJobs integration. MyScratch will enable you to save CasJobs results to a large temporary scratch database called MyScratch. SciDrive-CasJobs Integration enables data transfers from CASJobs to SciDrive.
Change Log
v1.7.6
SkyServer Web Services: CORS – CORS has been enabled for SkyServer web services.
SkyServer: CrossID – Upload file now accepts files of up to 1000 rows. These crossID queries are not logged in History or the weblog db.
CasJobs – Disabled "Publish" feature which has not been working in this or previous versions until fix is completed.
SkyServer Web Services – SkyServer radial and rectangular search with sexagesimal coordinates now works.
v1.7.5
Login Portal – CasJobs migration instructions updated.
SciServer Altair
Code Release Number: v1.7.3
Release Date: May 10, 2016

Image of the Star Altair from the CHARA Interferometer; Credit: Zina Deretsky, NSF
SciServer Altair Initial Release
We are pleased to announce the first release of the new SciServer System on May 10, 2016. This release will include upgrades to SkyServer and CasJobs, plus new features, including SciDrive and the Login Portal.
New in this Release
With the launch of SciServer, SkyServer

and CasJobs

will receive major upgrades. The upgraded sites will use modern web technologies, offering even more flexible ways to access data from the Sloan Digital Sky Survey (SDSS)

.
Although there will be major changes under the hood, both sites will continue to function as they always have. You will still be able to use SkyServer to search SDSS data in several ways, including writing freeform SQL queries. You will still be able to use CasJobs to run long, complex queries asynchronously, save results in your personal MyDB database, and plot and analyze data in a variety of ways. As always, all tools and data will continue to be offered free of charge to everyone.
The new SciServer-enabled sites will introduce several new features that we hope will enhance your research and teaching. These new tools include an enhanced login account system, better integration among Tools, and a new cloud-based drag-and-drop file system to make uploading and downloading your own data easier. In the near future, SciServer will further add a new online environment to quickly and securely run analysis scripts online, as well as additional large scientific datasets from fields like ecology, fluid dynamics, and genomics. With these new features, SciServer will expand the SDSS's new approach to research and education to all of science.
For more specific information on how to use each of the components listed below, please check the Help section of this website.
Login Portal
The first big change you will notice in SkyServer

and CasJobs

is that a new login widget appears in the top right corner of each page. Clicking it will take you to the new SciServer Login Portal, where you can create a free account for all SciServer tools. You can use that account to log in to both sites, and to access all your work from either site. With your new SciServer account, you can save the results of your SkyServer queries and come back to them later. You can access your SkyServer queries in CasJobs, and vice versa, giving you a new set of powerful tools for understanding science data.
Integration of SciServer Tools
CasJobs

grew out of the SkyServer

website, which offers quick and easy access to all Sloan Digital Sky Survey data. SkyServer does not allow long asynchronous queries like CasJobs does, but does include many additional features, such as a greatly expanded help section and educational projects you can use with your students.
With SciServer, it will be easier than ever to use both SkyServer and CasJobs in tandem. In our upgraded system, you can log into SkyServer and CasJobs via the Login Portal. Logging into SkyServer is optional, however, while logged in all your queries will be saved in your CasJobs history, and your results will be saved in your MyDB.
SciDrive
CasJobs

offers storage and easy access to database tables, but not everything can be stored in a database. For those times when your science requires flat file access, we are providing SciDrive.
SciDrive is a web application that will let you drag-and-drop to upload or download files. You can also export tables from your CasJobs MyDB into flat files in SciDrive. SciDrive will simplify managing your research from beginning to end.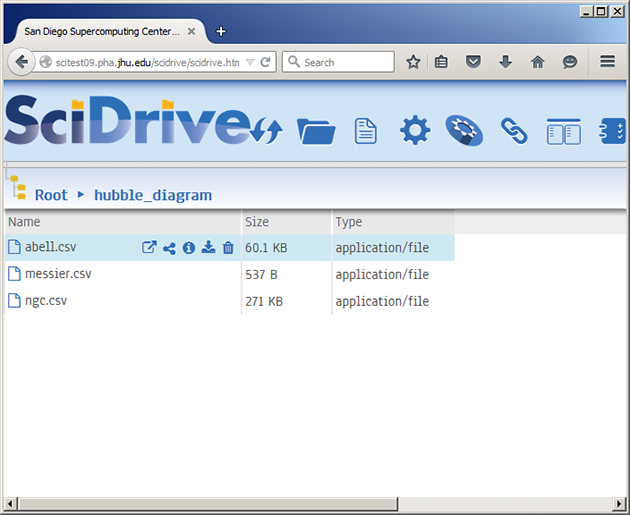 Web Services
CasJobs Web Services are implemented with a RESTful API that allows better integration with other SciServer components and provides an external interface for CasJobs users. The SOAP web services API is no longer supported.
For more infomation, please see the Web Services help section.